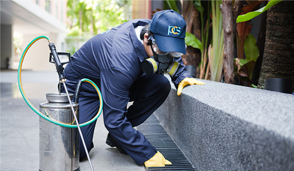 Professional Pest Control Special
Smart Home has great knowledge about controlling pests to maintain an optimal living and working environment. Therefore, lots of different institutions and organizations, such as offices, retail stores, banks, hotels, restaurants, schools, hospitals, churches, factories and storages have picked us for pest control services. Our technicians, who have extensive pest control knowledge with extraordinary experience, can solve all types of pest problems. Smart home applies professional pest control chemical that have the government's recognition and approval, which control the quantity of insects greatly. The chemical is long lasting and is safe for anyone, including kids and pets.
Roaches interventions::
The most advance technique for killing cockroaches can be classified into two types: toxicity and non-toxicity. The toxic chemical is a gel that traps cockroaches and the chemical will be absorbed by the cockroaches slowly. Non-toxicity type techniques include sticker plate, biological control, blocking nest and cutting off energy source etc. Our pest control technicians will provide advices for customers for roach preventions. Our products are safe and efficient, so we could provide a safe and insect-free environment for you and your family.
Mice interventions::
Smart Home mice control technicians will observe the environment first and make a precise judgement base on the seriousness of the problem. Then will apply situatable products for the situation. Customers are welcome to ask any question, and we are confident to solve any problem caused by mice.